This Week at ERP
Friday, July 29 - Friday Fun night
Gates Open @ 5:30
Open test and tune 6.30-9.30
High School @8pm
Saturday, July 30 - Points Race and special classes
Gates Open @ 1:30pm
Time trials @ 3pm
Eliminations Follow
All regular points classes plus Street Bike, Powder Puff and RPM No Bar heads up bike class.
---
ERP Golf Tournament Cancelled
The golf tournament scheduled for Saturday July 30 has been cancelled. We had lots of interest but not enough commitments for teams to play. We will have a golf outing that morning just for fun for those interested. We have a few T times reserved for those interested, please email or call Gerald if interested in this @ manager@eddyvilleraceway.com or call 641-780-3534. We will work on doing a tournament next year but start planning and promoting it earlier in the year.
---
1st Annual ERP Golf Tournament
When: Saturday July 30, shotgun start @ 8am
Where: Edmundson Golf course Oskaloosa Ia.
Format: 4 person best ball
Cost to enter: $50 per person, (includes 18 holes w/cart)
Anyone can enter, racers, fans, sponsors, friends, etc.
Prizes will include cash (amount depends on the number of entries) tickets for the World Fuel Altered Nationals, and others to be announced.
Please send a list of team members to: ERP 2457 Hwy 163 Pella Ia. 50219 (If you do not have a full team we can help with filling in with one or two entries) Make checks payable to ERP. You can also give them to Gerald at the track.
We are looking for a good time with our racers, fans and friends. We start racing at 3pm that day so we will have plenty of time to be finished in time.
Anyone interested in being a sponsor of this event please contact Gerald in person at the track, call him at 641-780-3534, or email him at manager@eddyvilleraceway.com.
---
IHRA Ironman Classic and Motorcycle Special Event
(Pella Corporation Night)
When:
June  24-26 (Friday test and tune, Midwest Pro Outlaw and all bracket classes on Saturday, all bracket classes on Sunday.)
Hours:
Friday open @ 5.30pm, test and tune 6.30-9.30pm, Saturday open at 11am, time trials @ 1pm, eliminations about 5pm, Sunday open at 8am, time trials @ 9am, eliminations follow.
Spectator fees: (Adults) Friday $8, Saturday $15, Sunday $12
Classes for cars & bikes:
Top, Modified, Super, and Street (regular points races) (IHRA Ironman trophies to the winners of these classes on Saturday)
Bike classes:
R/J Performance True Street and Hot Street (points races) (info on entry fees and payouts on ERP website under sidebar Street Bike series)
Pro Bike bracket class: Entry Fee per day $80, 1st rd. bye backs $50
Payouts, $1000 win, $400 R.U.
$50 per round won starting rd. 2 win up to final.
(17 entries for full payout)
On Saturday & Sunday bikes can enter their bike class and one of the car/bike classes.
Jr Dragsters will have an all run non points race on Sat. and Sun.
Midwest Pro Outlaw class also runs on Saturday !(Heads up class for Pro Mods, F/A`s, Blown alcohol dragsters, and more)
Pit vehicle race at the end of the night on Saturday.
This will also be a night at the races for Pella Corporation employees, their families, and friends.  We will also have several opportunities to support JDRF as this is a charity heavily supported by Pella Corp.
---
ERP No-Prep Race
June 18th and September 10th
Sponsored by - New Edge Automotive & Detailing
Gates open at 3:00 PM.
1st round starts at 5:00 PM
Drivers meeting will be announced, first round draws and call outs to follow drivers meeting.

Admission:
Kids 12 and under FREE
Spectators $10
Tech Card $25 (Required for Test n Tune and for class participation)

Classes:
STREET TIRE
$50 Entry
Must be DOT approved. Bias ply allowed up to 28x13.5or 29X10.5 (Non W). No restriction on radial size.
$1000 guaranteed!

Nitrous Outlet SMALL TIRE
$50 Entry
Up to 29x10.5 (NON W)
$1,000 Guaranteed!

BIG TIRE
$50 Entry
Any bias ply or drag radial larger than 29x10.5
$500 Guaranteed!

TRUE RADIAL
$25 Entry
Rear wheel or front wheel drive. Any regular street tire. (NO DRAG RADIALS OR ROADCOARSE TIRES)
Payout based on entries.

BIKES
$25 Entry
Street tires only
No wheelie bars
$550 guaranteed! ($200 to the winner and $100 to runner up will be gift certificates from Fenders Cycle.)

All Wheel Drive
$25 Entry
Open to all tires
Payouts based on entries.
**If there are questions or concerns about tire size, please let us know. (Some exceptions may apply.)

**Instant Green

**No Times will be shown on the Boards, but the clocks will be on. (Slip will be cut at the booth)

**Tech cards and class entry will be purchased at the gate.

**Test N Tune / Grudge Racing will be open as time allows. No testing before Round 1.
---
Updated Information for ERP Racers
Pit vehicle storage at the track:
Due to limited space available we will have to limit the number of units stored. We have decided to ad a small charge to store them as well, $60 for golf carts/ 4 wheelers, and $30 for scooters for the year. We are working on making more space in our building but want to have room for our emergency vehicle in the building.
Engine Diapers:
We are looking at requiring an engine diaper/ oil containment device for all cars 6.99 and quicker starting with the 2017 race season. This is one rule that is much needed and a lot of tracks and associations are already requiring as well as those going to the ET Finals. This notice gives everyone time to figure out what to do. DRE will work with us for racer discounts and track sponsorship when we add this rule. They make affordable diapers to fit anything.
Chute Usage:
We encourage all racers to make sure their parachutes work, especially the fast ones. If you do not know how to pack one we will have someone help you. If we don`t get racers to do this, we will do a mandatory laundry day ! Racers this is for your safety, not ours !
Sponsor Updates:
Hawkeye Weld and Repair from Iowa City has become a major associate sponsor of our Top ET class. Thanks to Kieth Hemann for your support. We need more associate sponsors for this class !
Dale Sanders (Bo`s father) is a Matco Tools dealer in Lincoln Ne. is giving $300 worth of tools to this years T/D champion, $200 of tools to T/D runner up, and $100
of tools to the 3rd place finisher. Matco tools is the official tool of the T/D class!
Dale is also donating a Matco Tools Antron Brown Helmet radio to the track, we will do a raffle for this with the money raised going to the save the trees fund. All of the trees at ERP are Ash trees and we are going to treat them in an effort to save them, this will cost us about $3000.
Manatt`s Ready Mix Concrete has purchased a sign at the track. This replaces Skyline Ready Mix who sold out to Manatt`s this spring. They supplied the concrete for our paving project this spring.
---
ERP Paving Project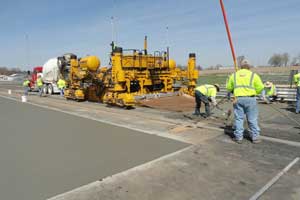 Eddyville Raceway Park has been a busy place lately, not with race cars but asphalt grinders and paving machines. Gerald Kramer track owner and manager says this project has been in the works for over 3 years. We have been working with Ron Colson of Track Planning Associates to make sure we did this overhaul of the track the right way. After lots of testing we found out the track had 12 inches of asphalt on the track having had several overlays of asphalt in it`s 50 year history. We had 6 inches of the asphalt ground out from the existing 100 foot concrete launch pad all the way to the finish line of the 1/8th mile track, 15 foot wide. The existing asphalt on the outside and center was profile ground to ensure a smooth transition to the new concrete. We then had 6 inches of concrete installed (340 yards) with a new state of the art paver by Manatt`s the same company that paved the Nascar track at Newton.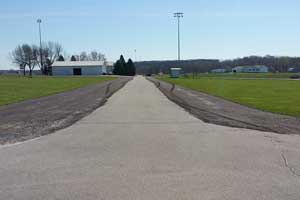 All of the asphalt grindings where layed down on many pit roads with an asphalt paver and then rolled for some much improved roadways and parking areas and eliminating a lot of dust issues. All that remains is to do a finish grind with a trazzel grinder to give what Ron Colson says will give us the best surface to hold rubber, fix some issues with asphalt between the new concrete and the guard wall which had some damage from the paving machine, and seal some asphalt cracks in the middle and seal coat it. We scheduled a late start to give us some time to get this done and are a little behind schedule but at this time we are quite hopeful we can be open on May 7 for a test and tune. Eddyville Raceway Park is an IHRA 1/8 mile track about an hour southeast of Des Moines, and home of the Musco Lighting Night of Fire on July 2, and the World Fuel Altered Nationals on Aug. 19 & 20.
---
Chassis Certifications
ERP will be doing chassis certifications at the track on April 30, 8am-3pm, please call Gerald at 641-780-3534 or email him at manager@eddyvilleraceway.com for an appointment so no one has to wait in line.
---
Over 7,000 IHRA Competitors Will Challenge for the
2016 Summit Superseries World Championship
NORWALK, OHIO (MARCH 16, 2016) The 2016 edition of the International Hot Rod Association (IHRA) Summit SuperSeries is off and running at many of the Southern based IHRA member tracks. This season will feature familiar names supporting the series but a brand new format that has competitors and tracks buzzing with anticipation.
As in year's past, every IHRA participating track will crown a Summit SuperSeries track champion. The big difference in 2016, as compared to previous years, is that each champion will no longer run-off at their Summit Team Finals event but rather be invited directly to the Summit World Finals in Memphis. This will be the single largest gathering of championship contenders the sport of drag racing has ever seen competing head-to-head for the IHRA National Championship.

"We've received a lot of positive feedback from competitors and IHRA member tracks on this new format and we are looking forward to seeing the largest championship race in history unfold during the Summit World Finals in Memphis" said Summit Racing Motorsports & Events Manager Jim Greenleaf. "At the end of the day, we recognize it is a big trip to Memphis for a lot of competitors. We have been hosting competitors from Alaska, Western Canada, Aruba and Newfoundland over the course of this program, so we think that taking a shot at the biggest sportsman
National Championship in the country is worth the trip".
Competitors in the Summit World Finals have an opportunity to win over $100,000 in prizes, the championship cash payout in Top and Mod will be $10,000 to win, $7,000 runner-up, $2,000 semis, $1,000 quarters and $500 eighths. Junior Dragster championship payout is $3,000 to win, $2,000 runner-up, $1,000 semis, $500 quarters and $250 eighths. All Summit SuperSeries track champions will receive free car & driver entry upon qualifying and passing tech for this event.
To get in on the action, competitors simply sign up for their IHRA Member Track points program while becoming a member of IHRA or simply renewing their IHRA membership. Competitors are then issued an "X" number (the second digit of the Summit SuperSeries registered numbers is an X) and that number must appear on your car during your track's points earning events as well as on your track's points listing on their website.
For a listing of IHRA member tracks click here:
http://www.ihra.com/ihra-tracks/tracks
and for a full series flyer and complete rules on the Summit SuperSeries click here: http://www.ihra.com/superseries-home

The Summit World Finals will be held October 21-23 at Memphis International Raceway. For additional information, please visit www.IHRA.com [10] or call (419) 663-4472.
---
2016 Schedule Update
We have changed our tentative schedule which had TBA on Aug. 26 & 27 to a Fun Night on the 26th and a points race on the 27th. This gives us 18 points races for our regular classes and 16 for our Jr Dragster classes. Like the last few years we will drop the 4 lowest races from each racers totals after our last points race on Sept. 4. On Sept. 4 at the end of the day we will again have a run off of the class champions this year from Top, Modified, Super, and Street ET classes. The runoff for the track championship is again sponsored by Advance Transmission and will get a full season Gold Card good for free entry at all races in 2017
---
Open letter to the racers at Eddyville Raceway Park
I know a lot of racers are concerned with what is happening at IHRA and their parent company IRG that owns IHRA and several race tracks including Cordova. Last week it was announced that Scott Gardner was no longer the president of IHRA. Scott being the former partner with myself at ERP this news was very upsetting to myself and many others and created a lot of uncertainty in the drag race world. I like many others do not understand how this could have happened as I felt Scott was the perfect man for the job but in the corporate world things happen that us out here in rural America do not understand.
The next question for myself was how will this affect Eddyville Raceway Park ? I have looked hard at the programs IHRA offers us versus NHRA. I had no major issues with NHRA when we were sanctioned by them and very few with IHRA since we switched 2 years ago. Several things stand out with IHRA including fewer hassles with competition licenses, 1/8th mile ET Finals, 1/8th mile World Finals, an outstanding Summit Super Series program, Jr Dragster National event, and  better insurance for the track for less money. IHRA has been through 6 or 7 different corporate owners since the late 90`s and one thing has stayed pretty consistent is their sportsman programs and I have been assured that once again that that will be the case now. All things considered I think it would be a mistake to change course at this time and plan on staying with IHRA at least through this season.
I am very sorry to see Scott gone from IHRA and feel for the employees and racers of Cordova as they have a lot more to deal with than we do as they are owned by IRG. I do believe with the investment IRG has made to purchase Cordova and do a lot of improvements to it last year that things will be ok for them as well, it`s just going to take some time and patience. Best wishes to Scott and Laura as they  figure out what the future holds for them.
---
ERP 2016 Update
The famous saying that is used around this time of year is it is "New year, new me". Well ERP will also be using that slogan this year with a slight alteration as it will be a New Year, new track! Yes after 20+ years of the same racing surface we plan to be a concrete track from start to finish! We fell this is a very important step as we want to continue to give our races the best possible racing surface and to show that we plan to be around for a very long time. Below is a more detailed list of track improvements we plan on doing in 2016 and or are on our short list to get done ASAP.
Facility improvements planned for ERP in 2016.
Track paving - We are planning on repaving the track from the end of the concrete starting line pad to the finish line with concrete. The old asphalt still works quite well but is far from smooth and requires a lot of repair work every year. With all of the fast cars we run at ERP at the NOF, WFAN and MPO class etc. a new surface will enhance those events and classes. This should also help eliminate the weeper problem we have been dealing with and should shorten the dry time of the track when we have rain.
Dust Control - We plan to use the asphalt grindings from the track paving project to use over the C-stone road ways on the south end of the facility. The C-stone has helped eliminate mud issues there but created a bad dust problem when dry.
Repair asphalt by the ET Shack - This will require an asphalt overlay and will be done if budget allows this spring. We also would like to replace the winners circle with concrete. This has been planned for a while and again will be done if possible.
Chain link fence work - We need to install a fence around the pond by the entrance and rebuild the fence on the spectator side of the track. These projects have been planned for years but have been put off due to lack of time etc. These projects are more labor than materials and any volunteers to help with this would help a lot.
Move Small Shelter House - We would like to move the small shelter house south and east of the office/restroom building to the entrance gate area so the girls at the gate can have some shade. This will be done if time and budget allow us to do it.
Bleacher renovation - The middle section of bleachers on the pit side are in need of some repairs. They need to be taken apart, repaired, painted, and a concrete pad poured before being rebuilt. This will also depend on time and budget and will be more likely be done if we can get some volunteers to help.
Restroom repairs - We hope to start renovating our restrooms one a year for the next few years. Again time and budget permitting we will start with the women`s by the Eddy Diner and add insulation in the ceiling of the Eddy Diner.
Concrete Barriers - We have plans to start on this project by building special movable barrier blocks. This will be a project that will take several years to do.
All of these are things we feel we need to do to continue to be a place everyone is proud to go to and have a great experience. We thank everyone for their support without it none of this can happen. If anyone has ideas that can help us to save money on any of these projects please let us know or if anyone wants to volunteer to help you can call Gerald @ 641-780-3534 or email him @ eddyvilleraceway@hotmail.com. The first 2 will definitely be done the others are high on our wish list. If the weather delays the paving project we are prepared to delay the start of the season to get it done.
---
Planning and Scheduling Update
It`s planning and scheduling time for the 2016 race season at ERP and we are looking for feedback from our racers and fans.
We are always interested in your ideas for new special or regular classes, special events, or any other thoughts you have to improve anything we do. Also let us know what you like to see for booked in vehicles at our Night of Fire. We have some of our plans made already made but always looking for more feed back. We also are open to ideas of events at the track that do not involve racing such as concerts, swap meets, flea markets, auctions, or other things that could work at the track. Remember that the track can be rented by anyone that would like to do an event that either involves racing or not.
Here is a few things that are planned at this time:
2015 Awards banquet on March 5. (details soon)
Super ET, this will be a new regular points class for foot brake cars and street bikes. Details will be announced soon.
Street Bikes will have a limited points series with 2 classes this year sponsored by R/J Performance. Details will be announced soon.
Modified class will have an increase in payout with a $5 higher entry fee. Winner will get $600 minimum and will increase faster than in the past. Details coming soon!
Midwest Pro Outlaw class has a new title sponsor in Quick Performance and will have a couple of minor changes to their program. (Details and schedule will be announced soon)
Memorial Day weekend will feature many of the same classes (MPO, T/S T/D, Super Street) as in the past. (May 27-29)
Midwest Nostalgia Nationals is tenatively scheduled for June 11 with details to be announced
Musco Lighting Night of Fire on July 2.
World Fuel Altered Nationals Aug. 19-21
Labor Day weekend will be a traditional big bracket event with other special classes such as MPO, T/S T/D, etc.
ET finals will be Sept. 16-18 in Martin Michigan and will be run on the 1/8th mile.
Jr Dragster Halloween Nats in Oct. exact date TBA.
Please send any feedback to manager@eddyvilleraceway.com, or call Gerald @ 641-780-3534.
---
ERP Track Rentals
Eddyville Raceway Park has days available to rent the facility for many types of usage including the use of the drag strip or for other functions that could make use of the rest of the facility but not the race track. Now is the time to set these up before all of our events are planned. Events using the track in most cases will be on a Friday night, Saturday or Sunday.
If you or a company wants to put on any type of outdoor event that might work at the track or if you would like to be a promoter of some type of race event please contact Gerald to discuss the possibilities. Price to do this will vary widely depending on the type of event you are considering.
Here is a list of some ideas on types of events that could utilize the track and facilities. They include but are certainly not limited to:
Swap Meet
Flee market
Concert
Car Show
Autocross
R/C Car & Plane Events
Special race events for company employees / customers
Special interest drag race event
We also can put together special packages for family reunions, car clubs, or company outings to the race track during any of our scheduled events both regular race days or on our bigger events. If interested in any of these please email Gerald at manager@eddyvilleraceway.com or call him at 641-780-3534.