This Week at ERP
Saturday, April 22 - Saturday Fun Day
Gate opens @ 9:00am
Open test and tune for anyone 11:00am - 3:00pm
---
Attention Street ET Racers!
For 2017 we will enforce the rule on requiring street legal tires in this class. When we switched from NHRA a couple of years ago which allowed drag slicks in the sportsman class we stated we would allow them for a while even though the rules for IHRA ET Finals requires street legal tires. We feel it is time to align our rules with those of IHRA for the ET Finals and enforce it.
Clarification of Street Tire Rule for Street ET
Street legal tire means it has a DOT stamp on the tire, this applies to our Fast Four classes on our Midnight Madness events, and our Street Car Challenge class as well. Hope this clears up some confusion of what street legal tire means.
---
Attention All Racers in the Cedar Rapids Area
We have scheduled a chassis certification day at Wright Way Trailer Sales on April 8, starting at 8am. If your car runs faster than 6.00 in the 1/8 mile you need one. These are good for 3 years (2 years for 4.50 and quicker).
Please email Gerald at: manager@eddyvilleraceway.com or text him at: 641-780-3534 for an appointment.
---
IHRA and Chassis Cert Information
We have been hearing rumors that Eddyville Raceway is going to switch NHRA sanction. This is absolutely not true!
As I have stated many times IHRA does have issues at the ownership level but this has nothing to do with their sportsman programs which in my opinion are by far the best for the track and our racers. Rules are more common sense and less restrictive and the Summit Super Series for our bracket racers is the best program available ! They also have more choices for the track for insurance which enables us to get better coverage for less money. Anyone wishing to discuss this please call me, my phone is always on and would be happy to discuss this with anyone with questions.
Chassis Certs: Anyone who races at ERP and runs 5.99 and quicker needs to have an IHRA chassis cert. We will be able to do these at Karl Performance on Sat. April 15 from 8am till noon, and at the track after 2 pm. Please call or email Gerald at 641-780-3534 or manager@eddyvilleraceway.com. to schedule a time. Rock will be available to do NHRA certs at Karl Performance that day as well.
Gerald Kramer track owner/manager
---
Teen Championship Racing
IHRA has a program that allows teenagers 13 to 17 years old to compete against each other in street legal cars and trucks. This is a very inexpensive way for families to get involved in drag racing and a chance for parents to cultivate a close working relationship with their children. A co-driver will ride with the teen competitors on all runs to coach the driver and join in the fun. TCR competitors will receive an IHRA competition license, and medical insurance coverage. The racing will be in a bracket race format and the car/truck must run 10 seconds or slower in the 1/8th mile. Competitors can also compete in the Jr Dragster class but not any other class.
We will run this class on select Saturday nights and it will replace the High School class in 2017. Cost to enter is just $10 and we will have trophies to the winner and runner up. License forms are available at the track or can be downloaded from our website or the IHRA website. Call or email Gerald with any questions at 641-780-3534 or manager@eddyvilleraceway.com.
Dates for 2017:
May 13, 27, June 3, 24, July 22, 29, August 5, September 2.
ERP is looking for a title sponsor for the TCR class. Cost is $1000.
This would allow us to have money for a points fund for the kids competing in the class and the sponsor would receive a ticket package for various events at ERP. Call Gerald at 641-780-3534 or email him at manager@eddyvilleraceway.com if interested or with questions.
---
Eddyville Raceway Park 2016 Awards Banquet
When:
March 4, 2017
Where:
Great Caterers of Iowa, Assembly Hall, 1250 NE 56th St., Pleasant Hill Ia. 50327.
Schedule:
Doors open @ 4.30pm, social hour w/cash bar 4.30-6pm, buffet @ 6pm, Awards presentation, special recognitions and video presentations @ 7pm.
Tickets:
Must be ordered by sending a check to Eddyville Raceway Park 2457 Hwy 163 Pella, Ia. 50219. Call or email Gerald with any questions at 641-780-3534 or email to manager@eddyvilleraceway.com.
Prices for tickets:
Adults $25.00, kids 7-12 $12.00, kids 6 and under free.
Event Hotel:
Sleep Inn & Suites, 5850 Morning Star Ct. Pleasant Hill Ia. 50327, 515-299-9922, check with them for special ERP rate of $87.00 for 2 persons.
We will be honoring the top points finishers in Top ET, Modified ET, Super ET, Street ET, Jr Dragster Advanced, High School, Street Bike, Stick Shift, Midwest Pro Outlaw, & Top Sportsman/ Top Dragster classes.
We are looking for nominations for the following awards:
Best appearing car,
Best appearing Jr Dragster,
Rookie of the year (Bracket racer),
Rookie of the year Jr Dragster,
Hard luck award,
Best engineered award,
Sportsman of the year,
Any other award you think someone deserves.
Also if you have a funny story of something that happened at the track in 2016 and would like to share it please let Gerald know.
Important Deadlines:
Nominations for awards need to be received by Feb. 10, reservations at hotel must be made by Feb. 26, banquet reservations must be made with ERP by Feb. 28, (all tickets will be held at the door)
---
Engine Diaper Rule at ERP
Starting in 2017 ERP an oil containment system will be required for race cars. This is something a lot of race tracks have already put in place or will do so in the near future. This will not only help save costly and time consuming oil downs but more importantly could very easily save your race car and your health or even life in case of catastophic engine failure. This is the most common sense rule for drag racing in a long time. Here is the rule we will start using for the 2017 race season:
All cars running 6.99 seconds and quicker will be required to have an approved engine diaper or engine oil containment pan. The following are exceptions to the rule: True street cars with street tires and bikes will be exempt at this time.
Diapers are available from several sources. Dennis Ridgeway Enterprises (DRE) is one source that is offering a 10% discount to ERP racers. They have standard diapers that fit some applications from $169.00 to full custom ones for up to $550.00. They are supporting the track with a sign and will have some giveaways and coupons for their products. They can be reached by phone @ 217-763-6352 or email dennis@enginediapers.com.
---
ERP Gift Certificates
Gift certificates are available for Christmas. They can be for any amount and can be used for any purpose at ERP in 2017. Please email any requests to manager@eddyvilleraceway.com.
---
New Top and Mod Points Series Sponsor for 2017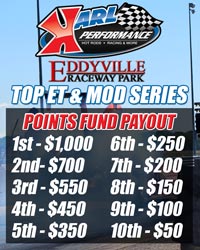 ERP is pleased to announce Karl Performance as the points series sponsor for our Top and Mod classes for 2017. The payouts for these 2 classes to be paid out at the 2017 awards banquet are listed below. Thanks to Karl Performance for this commitment to support the racers at ERP and racers please support Karl Performance whenever you need anything for your race car.
---
What`s new for 2017 @ ERP?
      Over the next few months we will making announcements about new and exciting things, events, schedule, etc. for the upcoming 2017 race season.
       To start things off I am very excited to announce that my son Kyle will be a full time employee of the track starting in January. He has been working at the track since we purchased it in 2006 and really understands what it takes to operate the track and the long hours it takes especially on big weekends like the NOF and WFAN which are usually 15-20 hour days. He has such a positive attitude and will be a major asset with him becoming more involved in the day to day operations of the track. This will enable us to do many things better and give some relief of some duties of our part time help and give me some relief to enjoy some things away from the track that I have not been able to do as much as I would like to such as playing golf !
        We have been working on a plan for a long time to transition him into a full time employee and eventually take over the track from myself. I plan on remaining on with the track for a long time just reducing my work load over the next 5-10 years. As you can see we plan on being here for the long haul which is why we continue to do improvements to the facility to ensure we have a facility that can properly serve our customers and sponsors into the future. We will be making some other announcements soon about things such as a new sponsor for our Top and Mod bracket classes. Remember our 2016 awards banquet is on March 4, details coming soon.
       Gerald Kramer
---
2016 Awards Banquet Date Set
2016 Eddyville Raceway's awards banquet will be on Saturday March 4, 2017. Details will be announced later, location will be the same as the last few years at the Great Caterers of Iowa, Assembly Hall, 1250 NE 56th St., Pleasant Hill, Iowa.
---
Season Comes to an End
Eddyville Raceway race season for 2016 is done. We will post any updates about the 2017 race season as they are announced. You can also follow us on Facebook. Please call Gerald @ 641-780-3534 with any questions or comments or email him at manager@eddyvilleraceway.com.
---
ERP Track Rentals
Eddyville Raceway Park has days available to rent the facility for many types of usage including the use of the drag strip or for other functions that could make use of the rest of the facility but not the race track. Now is the time to set these up before all of our events are planned. Events using the track in most cases will be on a Friday night, Saturday or Sunday.
If you or a company wants to put on any type of outdoor event that might work at the track or if you would like to be a promoter of some type of race event please contact Gerald to discuss the possibilities. Price to do this will vary widely depending on the type of event you are considering.
Here is a list of some ideas on types of events that could utilize the track and facilities. They include but are certainly not limited to:
Swap Meet
Flee market
Concert
Car Show
Autocross
R/C Car & Plane Events
Special race events for company employees / customers
Special interest drag race event
We also can put together special packages for family reunions, car clubs, or company outings to the race track during any of our scheduled events both regular race days or on our bigger events. If interested in any of these please email Gerald at manager@eddyvilleraceway.com or call him at 641-780-3534.